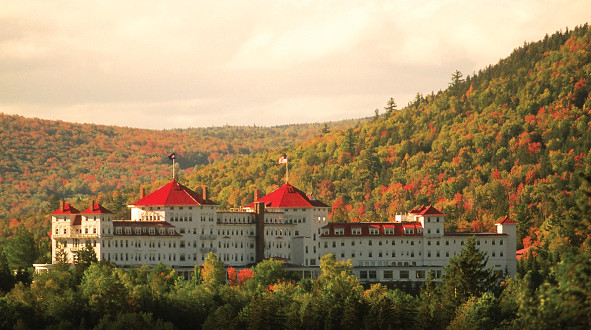 Photo courtesy The Mt. Washington Hotel
Spending a weekend at the Omni Mount Washington Hotel in Bretton Woods, NH was like stepping back in time, to an era when the pace of life was slower. Yet, the amenities and services of this grand, circa 1902 wooden hotel are very modern: fully equipped spa, 18 and 9-hole golf courses, indoor and outdoor pools, not to mention elegant dining rooms.

You can sit on red plush padded wicker lounge chairs on the long curved veranda, enjoying panoramic views of the entire ridge of the Presidential Range, while wait staff attends quietly, offering to bring drinks, snacks, and light fare. One of the first things you will notice upon entering the beautiful, light-filled, high ceilinged lobby is a majestic Grandfather clock, standing sentinel by a doorway to a sunny lounge, its pendulum moving quietly and with a face that changes scenes with the seasons. Halls and grand staircases are carpeted in patterned, period-appropriate colors that reflect local forest colors and creatures: bear, moose and fox.

An evening meal in the main dining room was memorable, highlighted by delicious food and a pianist playing wonderful tunes, both from the past and the present. The hotel offers many seasonable outdoor activities as well, including golf, hiking, skiing, dog sled rides, and sleigh rides - something for the enjoyment of everyone in your party.

I could go on about the comfortable beds, crisp linens, and beautiful vistas from the room, but my real advice to you: Experience the beautiful Mt Washington hotel for Yourself!
Categories New England, Vacation experiences
Tags Mountain