On a beautiful Sunday afternoon, I was met by a, "hostess," (their term not mine) at San Diego airport and transferred in a posh new Mercedes van to the Golden Door Spa in Escondido CA. Weeks before I left Boston for my west coast break, I knew two things; I was fortunate and skeptical about my final destination.
I was told, "it's more than just a spa… it's a retreat." After the 4-day Interlude Package, I expected to appreciate the difference between the two words.
Pay more, you retreat? Pay less you spa? The golden elephant in the room is that this operation looks to be one of the world's most expensive of its type. Eye-watering expensive. Enter the doubting Thomas. Granted, I am more experienced with charlatanism than destination spas. I boast a very sharp nose for discerning the sincere from the self-impressed.
Several weeks before the trip, they sent a packet with a decent questionnaire. Decent because the information they asked for is more practical than nosy. I dislike medical questions from the non-medical. It's pretentious and conveys the wrong impression to the gullible. You get my drift? The questions were practical, and meant to asses my ability level, likes, and dislikes. I never got around to the, "pre-visit" exercise and stretching routines that came in the packet.
The brochure is 50% gorgeous and 50% snore. Stock photos; waist-less beauties on stationary bikes or stretched out corpse-like as though receiving their last rites with hot rocks and lemon wedges. Tired terms like, "renewal," "transformation," and, "nurturing" didn't signal that I was in for anything original. But wait! The alluring shots of the Ryokan style rooms and Japanese inspired environs were so compelling! I couldn't dismiss the feeling that maybe the Golden Door did have something going for it that the competition is trying to emulate. Maybe this place is the real thing? Someone has to be doing this right. After all, it was founded decades ago and is credited with pioneering the mind/body connection… that is no small thing! Besides, it's in California, the source of many trends that are now mainstream.
The main doors may not be made of gold but they're certainly beautiful. Followed with a slow, thoughtful walk over a wooden bridge, you enter a peaceful reception area, leaving highways and airports behind. This place seems to have it's own "buzz". I can feel my blood pressure dropping. The staff I encounter seem happy to see me and happy to be here, an excellent sign!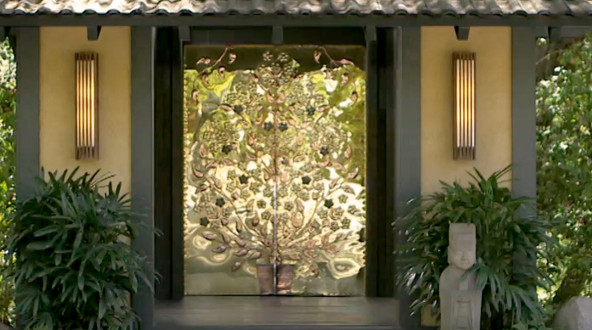 Image via The Golden Door Spa
My intention was to write a daily blog describing the process of my four day stay. But you see, after I checked into my room, (my beautiful Asian-inspired room) I took an inward look, and thought blog schmog! To hell with that. This place seems to have it, "going on".
Maybe I was someplace smarter than my smart phone?
I decided to dig into the opportunity I had; relax, let myself be taken care of, and give my hosts a chance to do their thing. Come on Golden Door, dazzle me!!
There is in fact, no dazzle here. No gloss. No shiny marble. It's not a wow factor, it's an OHM factor.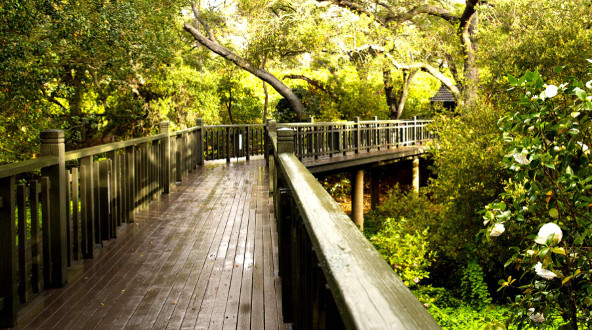 Image via The Golden Door Spa
Over the next four days I participated in 42 activities. Some were private, others were classes. All included. The daily massage is done in your room. Your closet is equipped with a massage table, and fresh linens. Also provided daily? A generous supply of Golden Door skin care products on the bathroom vanity and a daily change of good quality workout clothes.
Each practitioner is a star. Whether it's a facial or Feldenkrais, yoga or meditation, these people are the best in the business. I did not have one treatment or class that I felt was a waste of my time. Another testament that something good is afoot here is the staff longevity. The director of Guest Services? 31 years on staff. The pedicurist? 15 years. If you've been at Golden Door under 5 years, you're a newbie.
As for the guests, the repeat clientele outnumber the newcomers. From all walks of life and incomes, the very wealthy cheerfully mingle with the schoolteachers that save for a bi-yearly visit. That's very meaningful to me and spotlights the staff's intention that we're all even here and all here for the same reason. No attitude.
Besides the aforementioned 42 activities, you're served three gorgeous meals a day with snacks in between. They put me on the 1,500 calorie-a-day diet that at times felt a wee spare, but no one suffered. I dropped a few pounds, and managed not to have a single Marlboro Red. (The option was there, though. They have a smoking shed for guests.)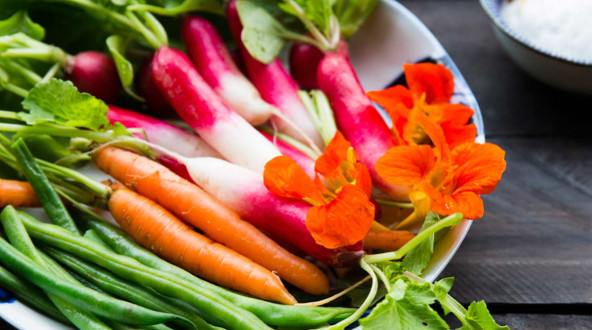 Image via The Golden Door Spa
Upon check-out, I was ready to leave, but in a good way. I wanted to put my newfound skills, (many that persist weeks after going) into practice.
I think of the many times I've landed in Boston after a, "vacation" feeling no different from the day that I left. Those trips seem a rip-off now compared to my adventure, "out into inner space" at the Golden Door. Terms like transformation, renewal, and nurturing that I scoffed at earlier, I'm happy to say are very real here. They're the experts.
I have a strong memory of my first night at Golden Door at an evening passive yoga class. You do nothing. You're arranged in the most comfortable postures with pillows and bolsters, covered in heavy blankets. Before I closed my eyes, I looked through the floor to ceiling windows to see the sun setting outside, and reflected in the floor to ceiling mirrors across the dark, warm studio. Weighted pads were placed perfectly over each eye. Then, a whisper about observing my breath, maybe a soft gong and I was floating down my inner lazy river….. This is soooooo California, I thought. And I felt so very welcome.
Categories TTC, Domestic, Vacation experiences
Tags spa, california